JSA was deeply saddened to announce that Jungian analyst, JSA board advisor, and long-time anchor of the Austin Jungian community, Priscilla Murr, 73, passed away on Monday, September 21. Priscilla trained at the C. G. Jung Institute in Zürich and had been in practice in Austin since 1986. She was instrumental in the Jung Society for decades, and her presence will be sorely missed.
Priscilla's practice flourished in Austin as she became involved with and taught at the Jung Society of Austin and the InterRegional Society of Jungian Analysts. In recent years, Priscilla was a lecturer in the Jungian Studies program at Saybrook University.
Priscilla offered classes, workshops, lectures and retreats through Jung Society of Austin to the Community for 3 decades. She also acted as advisor to the JSA Board offering inspiration, connections, and energy. She leaves a deep, rich legacy to us all.
Her obituary can be found here.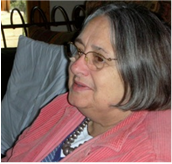 Please add your memories, images, poems, music, to her memorial page at jungsociety.com to these:
"Priscilla loved teaching and her students loved her." —Jim Hollis
"We have lost a mind so rich and capable in the knowledge of the symbolic, and so unique in the understanding of history and of peoples and culture." —Austin Jungian Analyst