Long-time JSA friend and supporter Paul Rowe passed away unexpectedly on November 6, 2014. We wanted to offer this page as a gathering place to remember him. We have included two remembrances of Paul here – please feel free to add your own below. In lieu of flowers his family is requesting donations to the Capital Area Food Bank.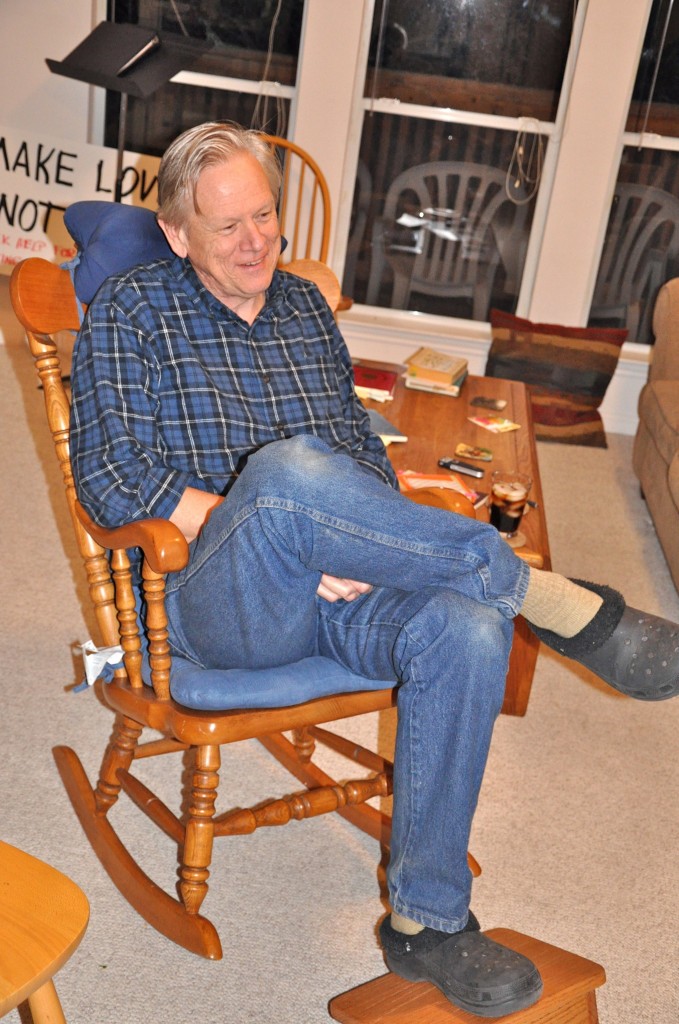 Obituary: PAUL A. ROWE
Paul Arthur Rowe of Austin, Texas, passed away unexpectedly Thursday, Nov. 6, 2014, at home. Born in Victoria, Texas, Oct. 8, 1951, he was the son of Joyce Beaty Rowe and the late Arthur George Rowe, Jr. He was educated in Victoria's public schools, graduating third in a class of about 600 from Victoria High School in 1969. He earned a MASC degree in electrical engineering/ computers from Rice University in 1974. He was active in every level of Boy Scouts; he was in the Order of the Arrow and achieved the rank of Eagle Scout. He also had a lifelong interest in Native American history and culture.
After college Paul worked in the fledgling computer industry in Houston: at Warren, Rowe & Associates as general partner, and Software Resources as general partner and president. From 1984 to 2005 he was an independent software developer. He was chief operating officer of American Church Trust Company from 1996 to 2005, after which he focused on independent projects in finance, operations and IT consulting.
Self-described as a "WASP Boy Scout turned hippie turned computer geek turned businessman still turning," he had many interests throughout his life. He loved flying small planes, boating, backpacking, stock trading, growing food, and cooking, especially barbecue. He learned basic plumbing skills in order to help with Habitat for Humanity; he was active in several chapters of the Jung Society; and as a high-schooler he had hand-built a small sailboat for himself. He was generous in sharing his time, talents, and money with others. For about the past ten years his Lake Travis home was the scene for monthly parties known as "First Saturday" at which all were welcome, with or without food to contribute. Money collected every month went to the Capital Area Food Bank of Texas.
Paul was preceded in death by his father. He is survived by his mother and three siblings and their families: Mark L. Rowe of Katy, Texas; Hunter G. Rowe of Fulshear, Texas; and Martha Rowe Anderson of Summit, New Jersey. He also has two surviving half-brothers, Doug Peck of Sacramento, California; and Chris Sawyer of Candler, North Carolina.
There will be a memorial service at Grace Presbyterian Church in Victoria on Saturday, Dec. 6, at 11 a.m. In lieu of flowers donations may be made to the Capital Area Food Bank of Texas.
Obituary
Paul Arthur Rowe
October 8, 1951 – November 6, 2014
Paul Rowe, longtime Austin Jung Society member, died last week at his home of a sudden and unexpected heart attack. Over the years Paul had been a tireless supporter of the Jung Society, serving several terms on the Board, as the Society's treasurer, and as an underwriter of major events. Many of Paul's closest friends first came to know him through the Jung Society.
Paul was in many ways the consummate Renaissance Man. He made his living at various times as software developer, businessman, and IT consultant. But his interests went far beyond what he did for a living. Paul's passions ranged from Jungian psychology to the arts to politics to the great outdoors. Most recently, he was part of the Whole Earth Provision Company family, helped a friend's startup company with their IT needs, and supported a campaign for Texas Railroad Commissioner.
Paul's deepest friendships arose at Rice University, where he studied computers, accounting, counterculture, and spirituality … forging bonds of love and respect that lasted a lifetime. Perhaps it was those friendships along with his work with several men's groups over the years that enabled him to have so many close friends, both male and female.
Paul was a big believer in the power of metaphor. It is somewhat fitting that at death his heart was found to be greatly enlarged, for those who knew Paul knew that his heart was always greatly enlarged. If you needed help or money or anything, he would be there. For many years Paul tithed, steadfastly giving ten percent of his income to whatever or whoever he considered to be most in need. Sometimes it was a favorite charity or cause, but sometimes it was a friend who needed a hand. He swore that his financial fortunes increased after he took up the practice.
Perhaps Paul's greatest joys in life were the First Saturday get-togethers at his home overlooking Lake Travis – ten times a year for the better part of the past decade or so. Originally he just wanted an excuse for friends and family and whomever to have a regular time and place to meet for food, conversation, and camaraderie. They were supposed to be low-key events with everyone bringing something to share. But Paul couldn't help himself. "Rockin' R" ribs became a regular feature. And nothing could be planned with him starting Friday afternoon, for there was serious planning, shopping, prepping, cooking, and grilling to be done. He often lamented that he spent so much time at the grill and in the kitchen that he had too little time for conversation. "Next time," he'd say, "I'll make it simpler." He never did.
Many remember Paul as an outdoorsman. Backpacking was a particular pleasure both early and late in life. A regular Summer Solstice trip to southern Colorado was a chance for Paul and some of his closest pals to get tired, cold, hungry, and seriously rejuvenated in the high country. It's reported that even on those trips, he ended up doing most of the cooking. The road trips across West Texas are legendary.
Paul is survived by his mother, four brothers, and a sister. His ashes will eventually be scattered on Lake Travis, where he'll join his first love, Jenni. Those inclined to toast Paul's memory might want to make it a Manhattan: Jack Daniels or Makers Mark, splash of dry vermouth, dash of bitters, "trash" optional.