The Jung Society of Austin is a non-profit located in Austin, TX dedicated to keeping Austin soulful and promoting the "depth view" with lectures, workshops, other events, and digital content.
Upcoming Events: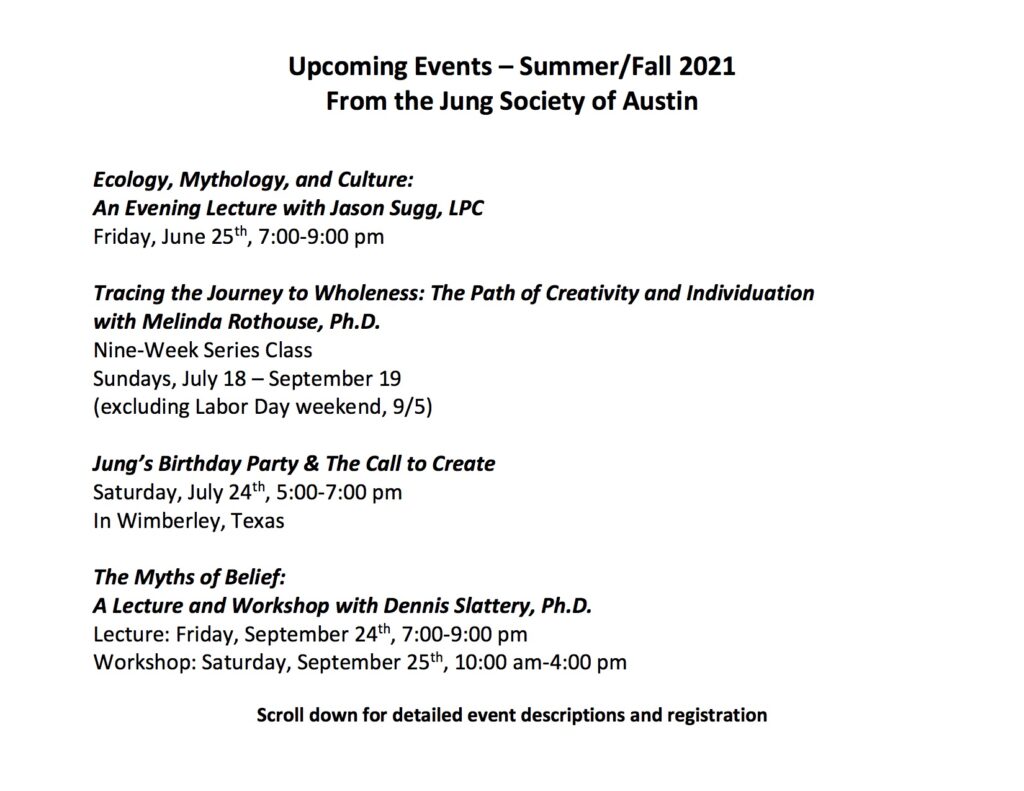 ---
Tracing the Journey to Wholeness:
The Path of Creativity and Individuation
with Melinda Rothouse, Ph.D.
Nine-Week Class – Sundays from 4:00-6:00 pm
July 18 – September 19
(excluding Labor Day weekend, 9/5)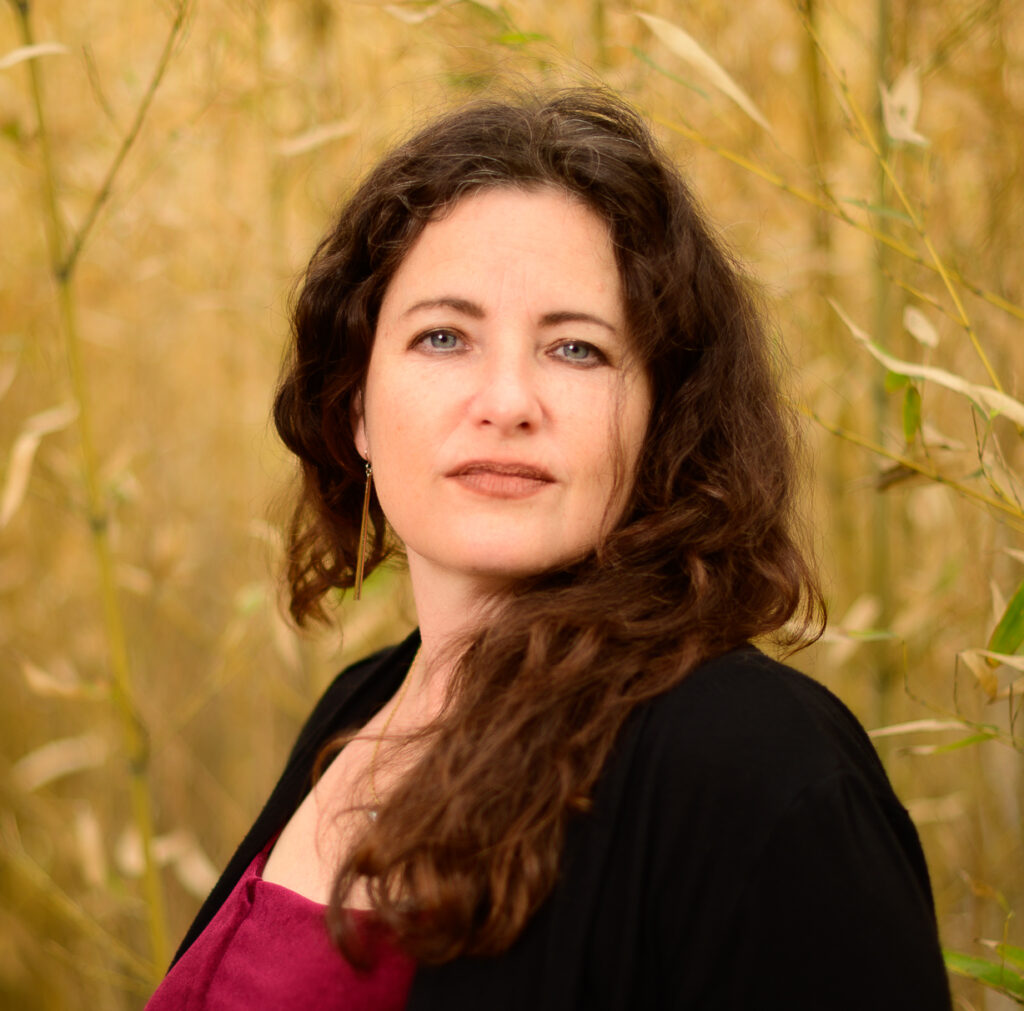 The act of consciousness is central; otherwise we are overrun by the complexes. The hero in each of us is required to answer the call of individuation. We must turn away from the cacophony of the outerworld to hear the inner voice. When we can dare to live its promptings, then we achieve personhood. We may become strangers to those who thought they knew us, but at least we are no longer strangers to ourselves.
― James Hollis, Jungian Psychoanalyst and Author
This experiential, workshop-based class, presented over a series of nine weeks, will explore the Jungian and depth psychological journey of individuation. According to Carl Jung, individuation is the process of becoming a separate, whole self that each of us experiences during the course of our lives, as we move through the stages of child and adult development. It involves incorporating unconscious material into consciousness and integrating the various strands of our being in a process of discovery and self-realization.
Drawing inspiration from Jungian psychoanalyst and writer Clarissa Pinkola Estes's book Women Who Run with the Wolves, participants will trace their own journeys of individuation with the help of Estes' chapter "La Selva Subteranea: Initiation in the Underground Forest." Each week we will read and discuss a section of the chapter, with time allotted for individual reflection, journaling, and creative expression as well as dialogue and discovery. Melinda will act as coach and facilitator of this journey.
About the Facilitator
Melinda is a professional creativity, leadership, and career coach, consultant, educator, and facilitator based in Austin, Texas. She holds a Ph.D. in Psychology with a Specialization in Creativity Studies from Saybrook University, as well as Master's degrees in religious studies and performance studies. Her doctoral research focused on using on mindfulness and contemplative arts to facilitate creativity and collaboration among groups and organizations. She the founder of Austin Writing Coach and co-founder of Syncreate, which offers creativity coaching, consulting, workshops, and retreats designed to enhance creativity in life and work, and to foster communication, collaboration, and community. Melinda is the author of A Mindful Approach to Team Creativity and Collaboration in Organizations: Creating a Culture of Innovation, published in 2020 by Palgrave Macmillan as part of the Palgrave Studies in Creativity and innovation in Organizations book series. She is also a longtime meditation practitioner and mindfulness educator, and leads contemplative arts and photography workshops and retreats both in the U.S. and internationally.
---
Jung's Birthday Party & The Call to Create
Saturday, July 24th, 5:00 – 7:00 pm
Join the Jung Society of Austin for a celebration of Carl Jung's birthday + a special edition of our recurring series "The Call to Create."
Join us in Wimberley, Texas, for our annual potluck celebration of Jung's birthday and creativity. Please bring a dish or drink to share, a lawn chair (if possible), and a creative offering, perhaps symbolizing something you are ready to let go of from the pandemic year, to burn in the bonfire. The exact address / location, about a hour's drive from Austin, with be shared with registrants prior to the event.
---
The Myths of Belief: A Lecture and Workshop with Dennis Slattery, Ph.D.

Lecture: Friday, September 24th, 2021 at 7:00pm
Workshop: Saturday, September 25th from 10:00am-4:00pm
CEUs are available
Lecture: "The very existence of a belief has in itself the reality of a psychic fact." C. G. Jung, Psychology and Religion, par. 377)
The last several years have called into question what comprises the reality we are asked to believe in. Dennis Slattery, PhD, will lead us to explore the intimate connection between myth and belief and question some of the following: Does a belief take shape from within the personal myth we are cultivating? How much of our own identity is implicated in what we believe? Where did one or two of our beliefs have their origin? How do our beliefs serve us as we continue our journey towards individuation? What might be necessary for a strongly-held belief to be modified or change? What makes us cling to certain beliefs? What is taking place regarding our national myth and the beliefs that give it solidity?
Riting Retreat: "Even though mythology may not be "true" in the sense that a mathematical law or a physical experiment is true, it is still a serious subject for research and contains quite as many truths as a natural science"; (Jung On Christianity, p. 129.)
We will work some of the related areas on belief, prejudice, assumptions, hunches, intuitions and other ways we use to create, defend, debunk, and understand more deeply the nature of reality that we have adopted as our path in life. We will also explore what individuals find that they continue to hang on to even though one no longer believes it. Please have a journal for writing cursively rather than on a computer, if possible. If your computer is a necessity, by all mean, use it.
There will be a series of meditative prompts to guide you into the topic. We will keep riting periods to approximately 20 minutes. There will be time for those of you who would like to share all or part of your writing, be it a poem or prose, with others.
Schedule for Lecture and Saturday Workshop with Dennis Slattery, PhD
Friday, September 24th, 2021 at 7:00pm – Lecture: Slattery will speak for about an hour, with some time near the end for general discussion and Q&A. Cost: $15 (non-members), $10 (members), $8 (students).
Saturday, September 25th from 10:00am-4:00pm – Writing and Meditation Workshop. Cost: $100 (non-members), $75 (members), $60 (students). (Purchase of a workshop ticket includes admission to the Friday lecture).
About the Presenter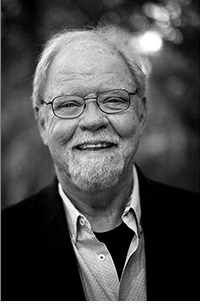 Dennis Patrick Slattery, Ph.D. has taught for the past 53 years, the last 27 in the Mythological Studies Program at Pacifica Graduate Institute in Carpinteria, California. He is the author, coauthor, editor or coeditor of 31 volumes, including 7 volumes of poetry and one coauthored novel, with Charles Asher. Current titles include From War To Wonder: Retrieving Your Personal Myth Through Homer's Odyssey and An Obscure Order: Reflections on Cultural Mythology (2020). He is gathering and editing a series of essays for a volume entitled Mything Links: The Subtle Wisdom of Stories. He has also written over 200 articles in newspapers, magazines, journals, on-line publications and other sources. www.dennispatrickslattery.com